---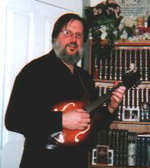 ---
Jim and Maggi Dalton have been selected to serve on the following rosters:

---
This page will serve as a "catch-all" for anything else I feel like posting.
Irish Language and Mythology
Probably my main interests outside of music -- but certainly related to it as well.
I've recently begun learning to speak and read Irish. Actually, I've been becoming more interested in languages with each passing year.
Maggi and I include historical and mythological background in our musical programs.
---
---
Here are some lists that I have compiled for my own use. Perhaps they will be useful to others as well:
--Irish language words relating to music (coming soon)
-- Irish language words relating to mythology (coming soon)
---
---
---
---
---
Multi-instrumentalist Jim Dalton is an educator, conductor and award-winning composer and arranger.

As a performer, he specializes in historical and ethnic playing styles on a variety of plucked string instruments including guitar, mandolin, banjo, mandocello, Renaissance lute, bouzouki etc. He also plays piano, organ, recorder and tin whistle.

In addition to solo performances and those with his wife, soprano and guitarist Maggi Smith-Dalton, he maintains an active career as a freelance musician playing in chamber music ensembles, jazz and world music groups and in opera/theater and symphony orchestras.
His compositions have been performed across the U.S. and Canada and in Europe. His choral composition, "The Rocky Road to Dublin," won first prize in the 1997 Toronto Camerata Competition. Two of his pieces for carillon have been published in anthologies by Fenwick Parva and the Friends of the Albany Carillon. His works are available through these publishers and Singing String Music.




Jim is on the faculty of The Boston Conservatory, teaching music theory, ear training and world music courses for both the Music Theory and Music Education Departments.

Jim maintains a private teaching studio in partnership with his wife, Maggi.
They also own and operate a publishing company, Singing String Music Publications.

He has written articles for Blues Revue Magazine and is the author of Mandolin for Beginners, published by Workshop Arts, Inc./Alfred Publishing. He is a frequent guest lecturer on topics such as composition, choral arranging and Irish traditional music.

He recently (2004-2005) received a MACRO research grant (Univ. of Wisconsin) to study and analyze palindromic compositions in the concert music repertoire and presented this work at the 2005 Macro Musician's Workshop in Madison WI.


Jim Dalton endorses and plays the Phoenix Neoclassical Mandolin